Professional Course
Career in Computer Hardware and Networking
Do you ever wonder about experimenting with your computer? Do you know how many hardware are there in your computer?.. Want to know how the hardware are being interconnected in computers?
All these queries lies in the concepts of Computer Hardware and Networking.
The career in Computer Hardware and Networking is the most demanding job among the youth. Hardware and Networking domain is the highest paying and fastest growing domain in the IT Sector. As a matter of fact, Hardware Engineers are most crucial to any appliances or electronic industries.
Now let us come down to the basics:-
Computer hardware is combination of the physical parts of the computer that makes the system complete. Physical components mainly consists of monitor, keyboard, mouse, RAM, hard disk drive, etc.
Networking is the field of Computer Science that deals with the transporting and exchanging data or information over a shared medium. Data can be exchanged using cable media or wireless media.
Fact: Internet is the largest example of Computer Networking.
The network devices are mainly Router, Switch, Modem, Hub and Data card (Dongle). Network Interface Cards (NICs) are the most common type of hardware network on a network.
Hardware professionals deal with various hardware components such as chips, computer systems, motherboard, processor, RAM, circuit boards, modems, external hard disks, printers and keyboards. On the other hand, the duties of computer networker includes designing email programs, installing software and hardware, analyzing and testing the operating system for hardware and software malfunctions, and ensuring that software applications and networks are working properly. Hence for understanding this field better, one must have proper knowledge about these topics.
Courses and Programmes
Looking forward to learn these courses?
You can apply for courses from certificate level to master's level which are available in computer hardware and networking. Students who are willing can pursue the following courses after their 12th in the field of computer hardware and networking.
Certificate courses in networking includes LINUX that is one of the popular course in networking for LAN administration and system developer. There is wide variation of Linux courses from which you can choose. CISCO certifications are prominently CCNA, CCNP, SD-WAN, DevNet and CCIE.
Diploma Courses:
Diploma in Computer Hardware Maintenance

Diploma in Computer Application and Network Administration

Advanced Diploma in Computer Hardware Maintenance and Networking

Diploma in computer Hardware and Networking

Diploma in Computer Networking Technology (DCNT)

PG Diploma in Industrial Automated System Design
Bachelor's Courses:
BCA in Hardware & Networking

B.Sc in Hardware & Networking
Master's Courses:
M.Tech in Network Engineering

Postgraduate Diploma in Hardware & Networking

M.Sc in Hardware and Networking
After completing B.E./B.Tech or MCA courses in computer science engineering, student can easily make their career in Hardware and Networking field.
There are many renowned colleges all over India where one can easily learn Hardware and Networking Courses.
Admission Process
Candidates want to enroll in several diploma or degree courses are required to pass higher secondary examination with PCM group. Although some institutions organized their own entrance test for providing admission to bachelor degree programmes.
After the completion of B.Tech in computer science engineering, you can make your career in networking field. For advancement or to gain expertise in networking, you can pursue M.tech.
Admission into M.Tech programme is done through Graduate Aptitude Test in Engineering (GATE 2021). It is the national level entrance test conducted once in a year. Candidates can also apply for IIT JAM 2021 and IIST 2021.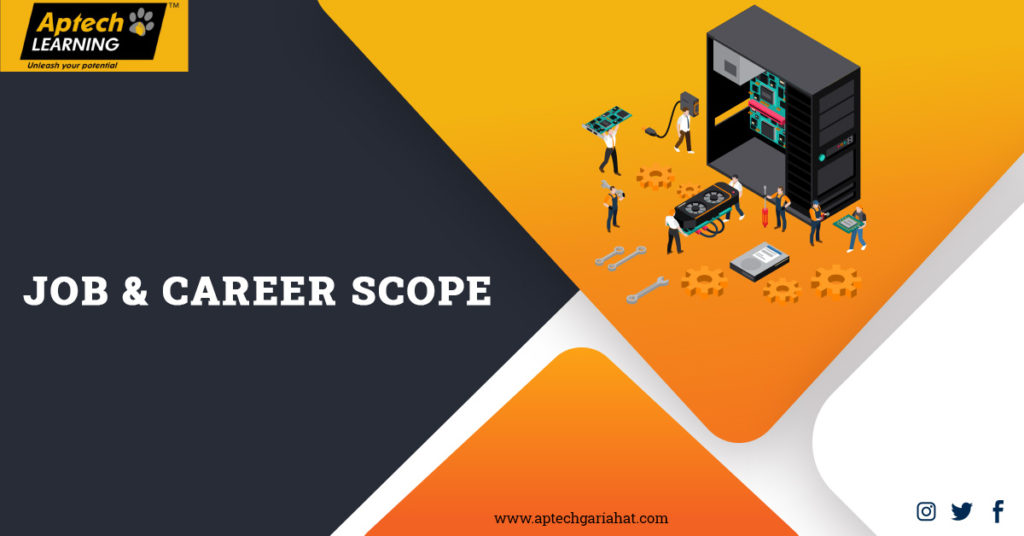 Jobs & Career Scope
Now you may wonder what is exactly the career scope in computer hardware and networking field?
With multiple entry points, you can say that career path in Hardware and Networking is relatively broad. For starters, large use of computers, laptops, mobiles, desktops and internet in private and government organizations increases the requirement of hardware and networking professionals. It also calls for the need of Server technician, Network support technician, Network support Administrator or Engineer and Network managers. Hence, there is ample of options job options if you excel in this field.
There are extensive use of computers in colleges, schools, organizations, hospitals, banks, etc. Also in companies in hardware manufacturing, system design, software development requires professionals who are well-versed in this field.
There is also another possible opportunity in the field of education. After earning master's degree in hardware and networking, individuals can find employment in colleges for the post of lecturer.
Hardware professionals and network administrators also play a massive role in IT and web hosting companies. In IT Sectors, hardware professionals are responsible for installation, maintenance and repair of computer systems.
As we all know Information Technology (IT) sector is one of the fastest growing industries in India capturing the global attention. This advancement has provided us with thriving job opportunities which are available in public and private organizations.
In this regard we also have call centers, system design companies, telecom companies, hardware repair shops requires networking and hardware professionals. One can also opens his/her own hardware repair shops after gaining knowledge and experience.
Job Titles of computer hardware engineers:
Based on the qualification and technical experience, one can be appointed at different positions.
Job profiles for the hardware and networking professionals is given below:
Systems Engineer

Design Engineer

Systems Integration Engineer

Project Engineer

Field Service Engineer
Job Titles in Networking is as follows:
System administrator

Network Engineer

Technical Support

IT administrator

Network administrator

Security Database development and administration
In order to acquire a good position in large firms, master's degree in computer science engineering is very much essential. It broadens career opportunities for computer hardware engineers.
Duties of Computer Hardware Engineers
Designing computer hardware

Supervise the production of computer hardware equipment.

Perform testing and verifying hardware equipments.

Update existing computer equipment to make it compatible with the latest softwares.

Provides support to technicians and other technical support personnel.

Ensure that computer works faster and efficiently.

Testing errors and fixing them

Designing hardware for Computer-related products like router and smart devices

Collaborating with software developers to ensure hardware functions for its intended purpose.

Overseeing manufacturing process of hardware components

Analyzing system data in order to make changes to hardware configuration
Duties of Network Engineer
Monitoring the network performance and security.

Perform network maintenance and ensure networks are running smoothly and efficiently.

Maintain system back up.

Support network and computing infrastructure.

Configuring and installing various network devices (e.g., routers, switches, firewalls, load balancers, VPN, QoS).

Undertake fault investigations in LAN and WAN

Design and implement new solutions and improve resilience of the current environment

Trouble shooting network problems and outrages

Secure network systems by establishing and enforcing policies

Configure routing and switching equipment

Update data network equipment to latest stable firmware release
Recruiters
Here are the names of some renowned companies that recruits hardware and networking professionals: ugh
Intel Corporation

Acer India (Pvt) Ltd

Dell

Casio India Company

HCL

TCS

Infosys

Wipro

Accenture

Tech Mahindra ltd.

Mphasis ltd.
Salary
Now we come to the bottom line of the discussion. How much salary can a Hardware and Networking professional expect?
Well, dedicated and hard working professionals can reach to the top position soon. Initially in India, a fresher may get the salary package of 3 or 3.5 lacs per year.
More Experience in hardware and networking field can give good results and you may receives good salary package. As you will get more experience in an organization, your salary will increase accordingly. Also, salary will also depends upon your job profile and type of organization you are working for.
Books & Study Materials
Some of the best books to study computer hardware and networking is mentioned below:
Networking for beginners – Dylan Mach

Computer Hardware & Networking – Vishnu P. Singh

Hardware & Networking – Vikas Gupta

Eureka Advanced: Hardware and Networking – B.S. Yadav

Fifth Edition Computer Networks – Larry L. Peterson, Bruce S. Davie

Fundamentals of Computer Hardware – Mandeep S. Bhatia

Computer Hardware and Networking – Pankaj Kumar

Computer Hardware – Ashish Choudhary

The principles of computer hardware – Alan Clement's

The Architecture of Computer Hardware, Systems Software & Networking: An Information Technology Approach – IRV Englander