Are you looking for a reputable air hostess school or college in Kolkata? A full list of accredited air hostess training institutes with a complete job guarantee may be found. Everyone wants to be recognised in the aviation industry since it is both fascinating and financially lucrative. Are you aware of the costs of an air hostess course? The cost of the best air hostess training institute in Kolkata is generally lower than in other large cities. To begin your career as an air hostess, register and receive training from the best academy.
With the best Air Hostess training institute in Kolkata, start a fantastic career
Nowadays, there are numerous rewarding job prospects in the aviation business. While pilots and co-pilots are the highest-paid employees, air hostesses aren't far behind. With each passing day, the importance of flight hostesses grows. Air hostesses are becoming more important than ever as airline businesses change to a more passenger-centric approach. It is the role of the air hostesses to interact with every passenger on a trip and make their experience pleasant and memorable.
What curriculum, the best training institute in Kolkata should follow!
The best training schools in Kolkata should make every effort to create a curriculum that includes both academic and practical courses.
They should incorporate an international immersion programme module to help students gain confidence by giving them meaningful experience.
Their lessons should be tailored to the needs of each student so that he or she can become competent and excel in their chosen field.
Students should be trained and groomed by the institutes in order to secure the best placements.
Questions generally asked by the best air hostess training institutes in Kolkata
What are the requirements for taking an air hostess course?
Aspiring flight hostesses should have a high level of interactivity and be proficient in English. They must also be in good health, as air hostesses have a physically demanding job. They should also be able to obtain Indian passports, as promotions in the airline sector frequently entail switching from local to international flights. All of these factors are examined throughout the screening process that air hostess training colleges use to choose qualified candidates.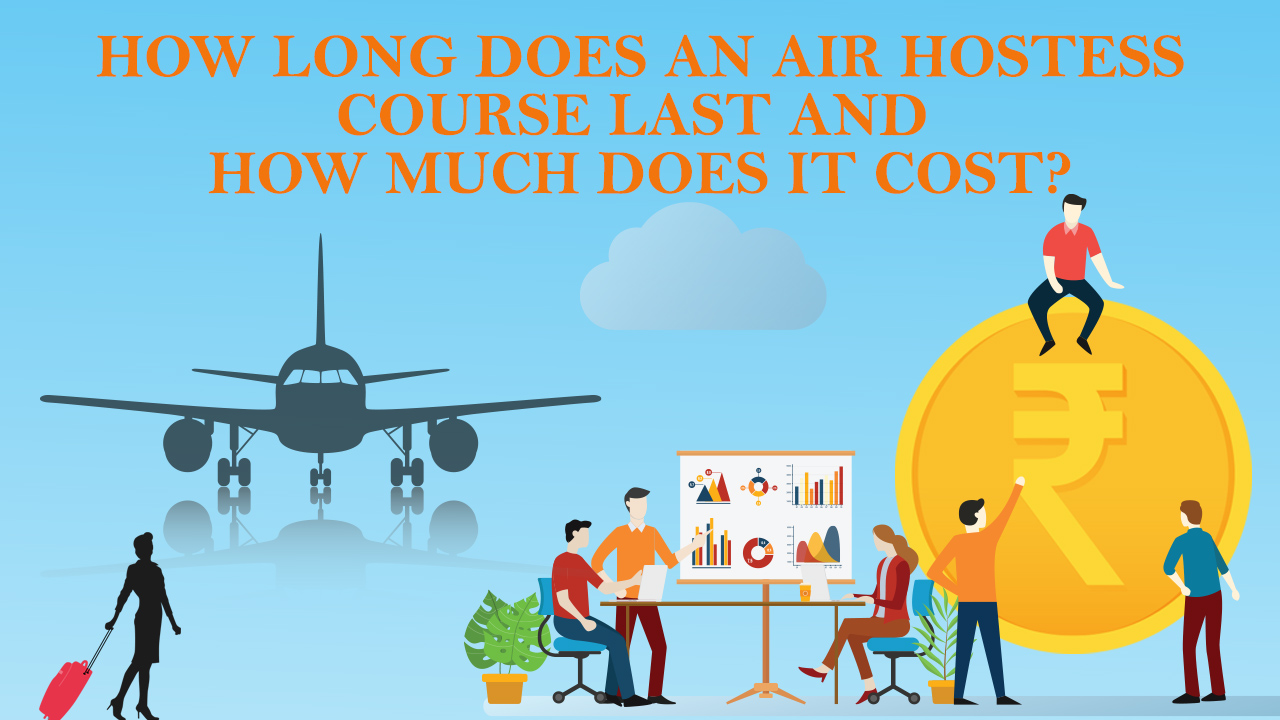 How long does an air hostess course last and how much does it cost?
The length of an air hostess training course in Kolkata is totally determined by the air hostess training institute. Most courses last between 6 and 12 months. Some institutes, however, may offer courses that are shorter or longer than the average indicated above. Fees vary from one institute to the next. The cost of an air hostess course ranges from Rs. 65000 to Rs. 200000 on average. For further information about the duration and fees, research more and make a best choice from that.
After completing an air hostess course, from the best training institute in Kolkata what kind of work opportunities may a candidate expect?
If you want to be an air hostess, you should know that there are plenty of career opportunities in the industry. Yes, your first few years on the job may be extremely demanding. However, once you've established yourself as a seasoned pro, you'll almost certainly get promoted on international flights. There's nothing like being an air hostess if you want to go to fascinating international countries.
Overview of Aptech Institute of Air Hostess Training in Kolkata
Since 1986, the institute has provided excellent training in areas such as hospitality, aviation, customer service, and travel. The curriculum is created by specialists in various industries and is offered at 800 centers globaly 
The institute offers world-class instruction that is accessible to students from all socioeconomic backgrounds.
The curriculum is changed on a regular basis to assist pupils keep ahead of the competition.
The professors give students practical explanations of many areas in order to assist them do well in their exams and have a brighter future.
Placement-
Because the institute has ties with a number of businesses, it makes every effort to give its students good placement opportunities.
The college has a Placement Assistance Cell (PAC) that works hard to bring in a variety of companies in order to provide the greatest possible placement opportunities for students with a competitive wage package.
On-campus job interviews are available in five-star hotels, airlines, travel and customer service, and hospitality, all of which pay well.
Rankings and Awards:
For the past 8 years, the Institute has received the Best Air Hostess Training Institute Award.
They were named the finest cabin crew in the Limca Book of Records.
Infrastructure-
The school is well equipped with the necessary facilities between all other institutes.
In this field laboratories have all the instruments essential to better know the themes.
The classrooms are air conditioned and equipped with projectors and with the help of visual representation, the faculties teach things.
No B.Sc. Program is offered by Aptech Institute, but just Hotelier and Aviation Certification Programs with 5 streams. Students can apply for and register for certification programmes via online applications. If you want to apply to Aptech Institute, you must have passed your 12th grade board examinations or completed a three-year diploma programme with passing grades. Your communication process must be effective. You can apply for direct admission by filling out online application forms if you match the eligibility requirements. You must go to the Frankfinn Institute's website to apply online.
Conclusion
With India's growing aviation industry, the need for air hostesses and cabin crew members are increasing. If you're interested in a job that requires you to travel to new locations, meet new people, and gain new experiences, you might want to look into being an air hostess or cabin crew member. A number of air hostess training institutes have opened in India to meet the need of the aviation sector. You can find all of the information you need about the best air hostess institute in Kolkata, as well as the qualifying requirements and air hostess training courses available, in this post.